Howard County Medical Center is actively monitoring the outbreak of illness caused by the Coronavirus (COVID-19). If you have visited any of the areas experiencing outbreaks (currently those include China, Italy, South Korea, Iran, Japan, Hong Kong, Singapore, Taiwan, Thailand, Vietnam, Washington, California, & New York City) or believe you were exposed to a patient with COVID-19, please visit the DHHS website at https://cip-dhhs.ne.gov/redcap/surveys/?s=JKHEPR4DPR and complete the survey. If you suspect you may have been exposed to COVID-19 or are showing signs or symptoms and have recently traveled to a high risk country, contact the Loup Basin Public Health Department at 308-346-5795 or Howard County Medical Center at 308-754-4421, ext 144. If you would like more information on COVID-19, please visit the CDC website at: https://www.cdc.gov/coronavirus/2019-ncov/index.html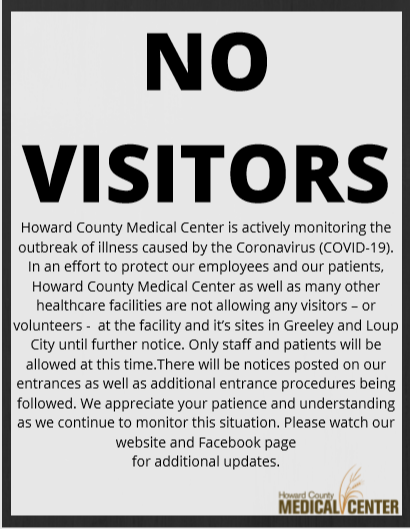 Posted on 03/30/2020

Meditation is powerful. If you're still unsure whether or not the practice is worth trying, check out these top benefits of meditation and consider how they can help improve your life.

Posted on 03/23/2020

When bad things happen, how do we act individually, and how can we come together as a society? How can we be kind in times of darkness?

Posted on 03/16/2020

Whether it's a few hours or a long commitment, volunteering not only supports those around you but positively influences you as well.